I understand how difficult it can be to find just the right pet sitter to care for your pets and home while you're away.  That is why I started Pet Watch, Inc – Professional Pet Sitting Service 26 years ago.  I had a difficult time finding someone to care for my pets and saw a need in our area for a professional pet care service.  Our staff takes out the stress of finding a sitter and adds convenience to your life by doing all the legwork for you.  We match you and your pets with the most qualified, experienced adult sitters possible.  We are here for you and your pets.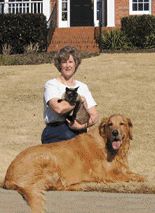 In 1995, I brought this passion to a larger professional level with the birth of Pet Watch, Inc. in Cumming, Georgia.  Being born and raised in a rural Georgia farm environment, I discovered a passion and love for nature and her animals of all shapes and sizes.  I am the Founder and was the President of the Georgia Network of Professional Pet Sitters for 25 years and a leader in the industry.  I offer my expertise to other pet sitting companies by being a "Pet Sitter Coach" for pet sitters.  I am always striving to make pet sitters more professional in the industry by offering training and tools they need to succeed.  I am also a Pet Tech Instructor for the last 15 years, and our staff is trained in Pet First Aid/CPR and dedicated to caring for your pet's well-being with love and attention.
All our adult pet care providers have this same passion as well as the knowledge to give your pet the top-notch care you expect!  Each pet sitter is bonded and insured with a clean criminal background record.  Our reliable, courteous sitters ensure your scheduling needs and any special requirements are met with consistent, responsive care whether you need a daily dog walker or last-minute pet sitter.  When you can't be there for your pets, Pet Watch, Inc gives you "Peace of Mind" that your pets are getting the loving attention they deserve.
We welcome your calls or emails.  Please enjoy your visit, and we look forward to meeting you and your furry, scaly or feathered babies soon.